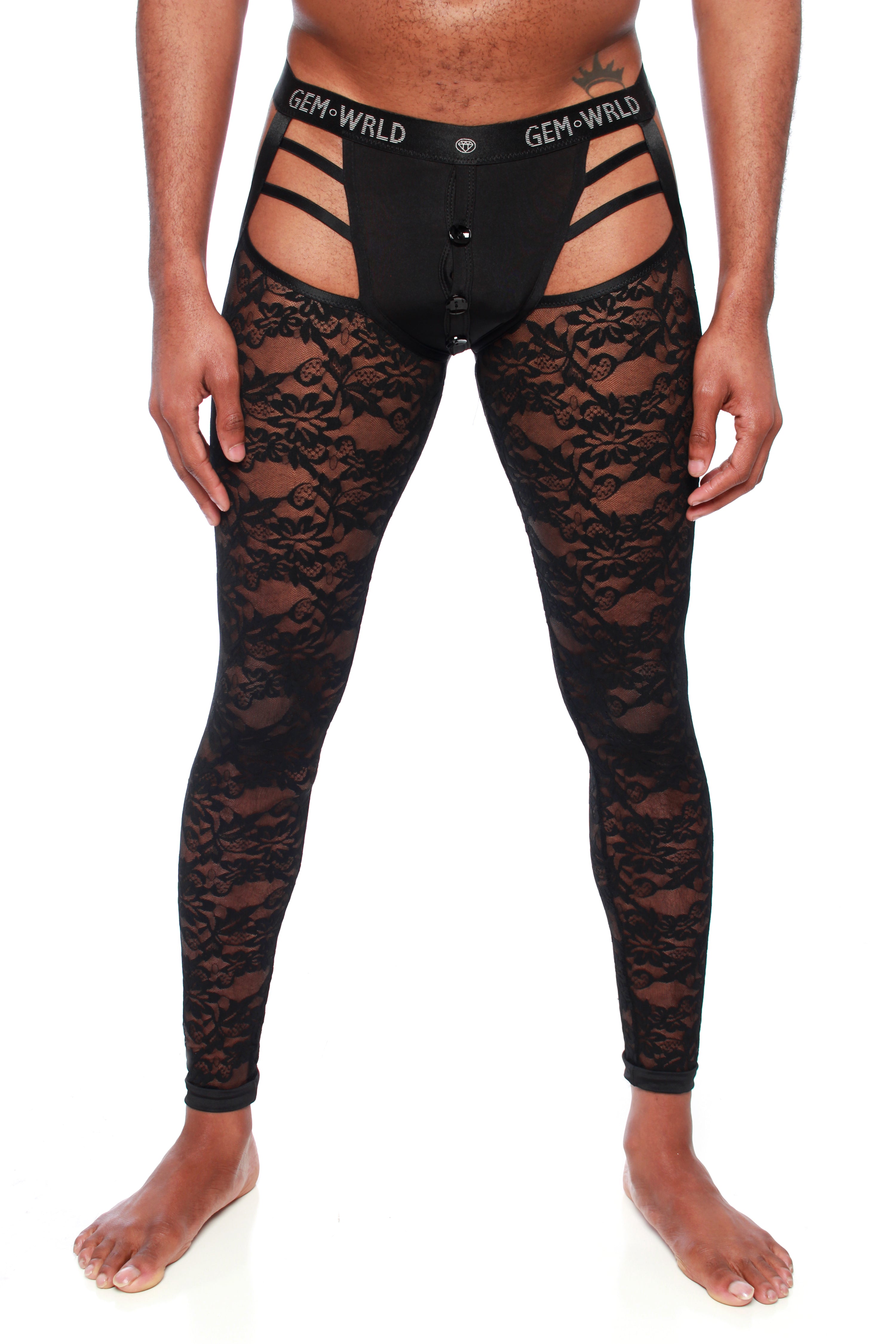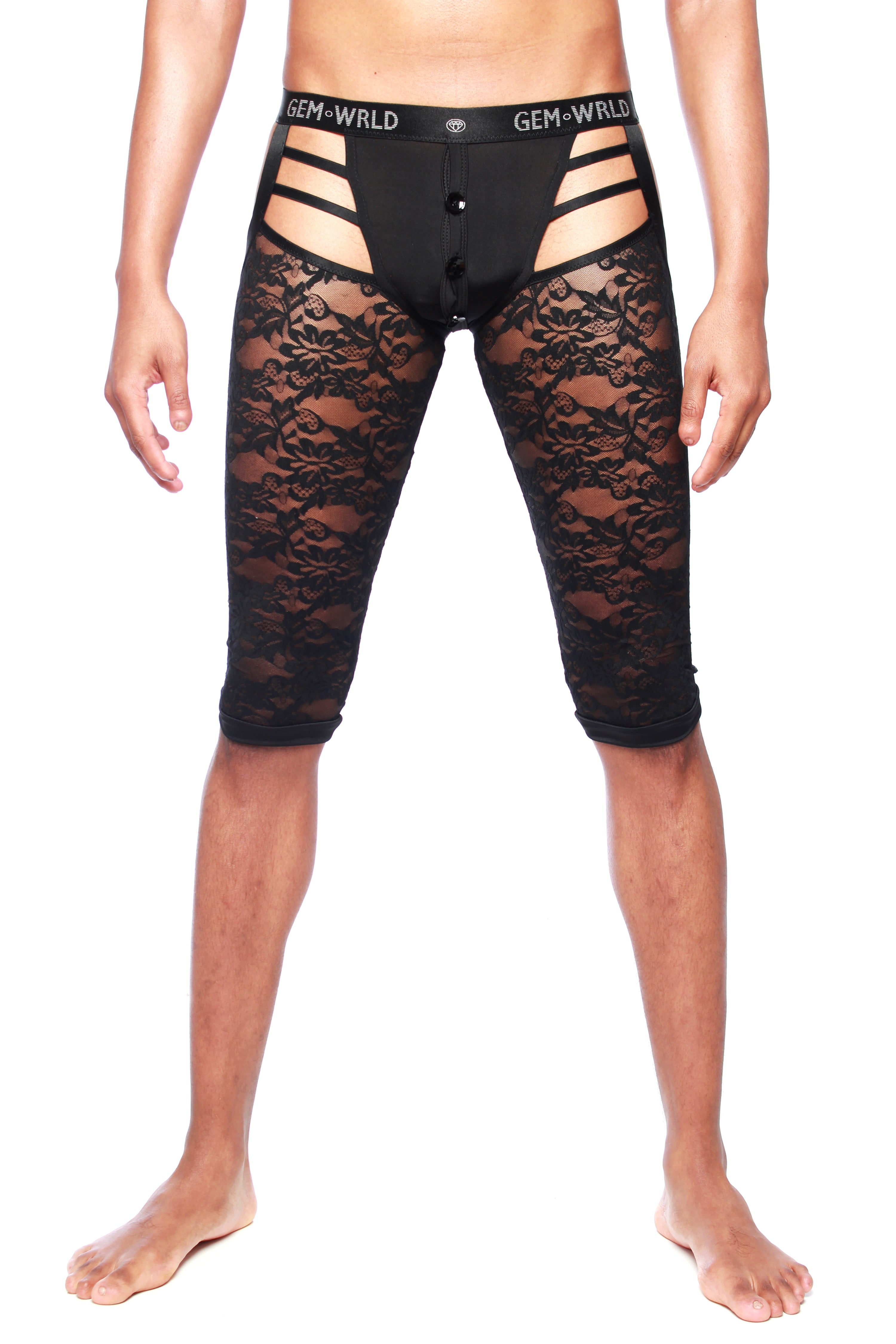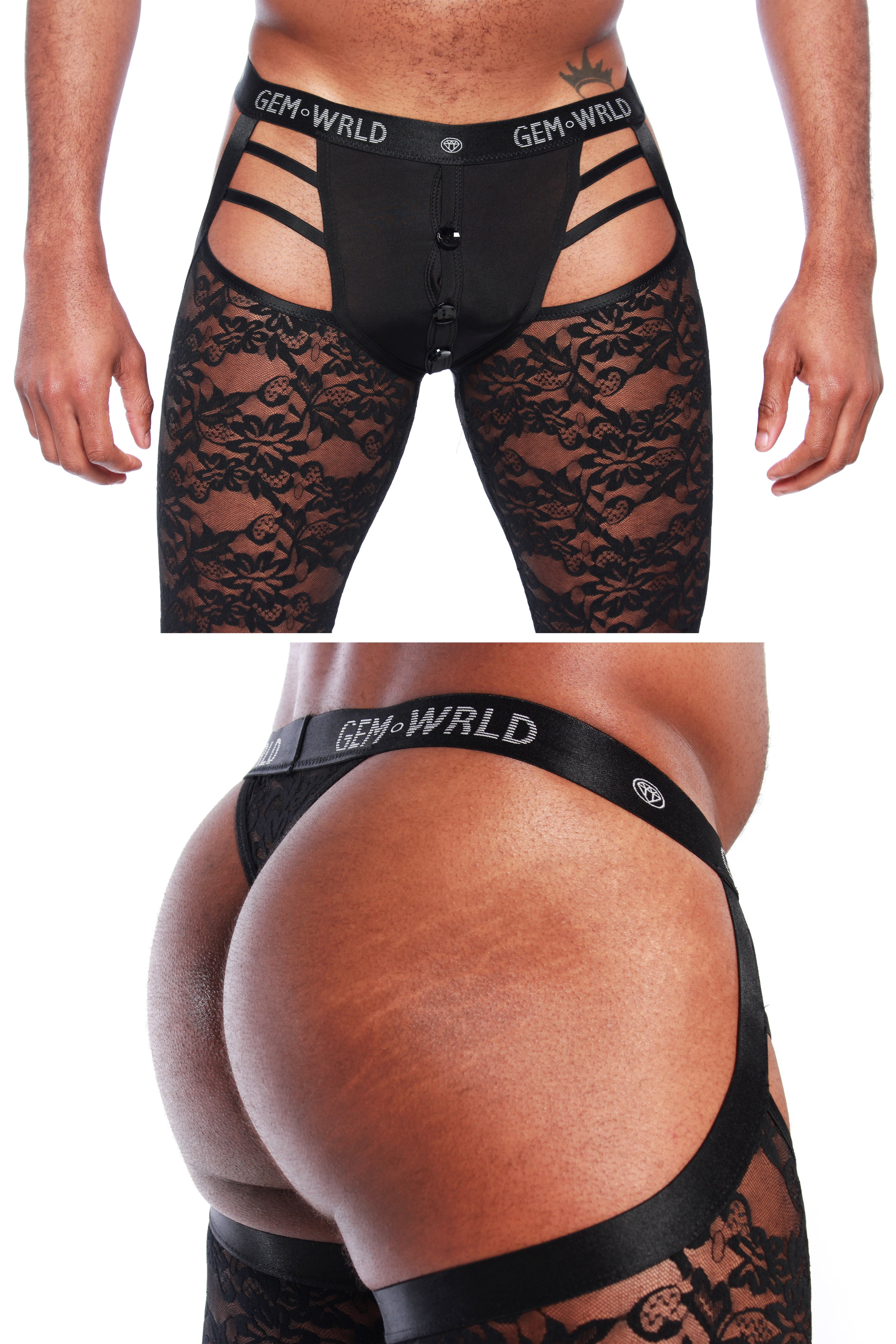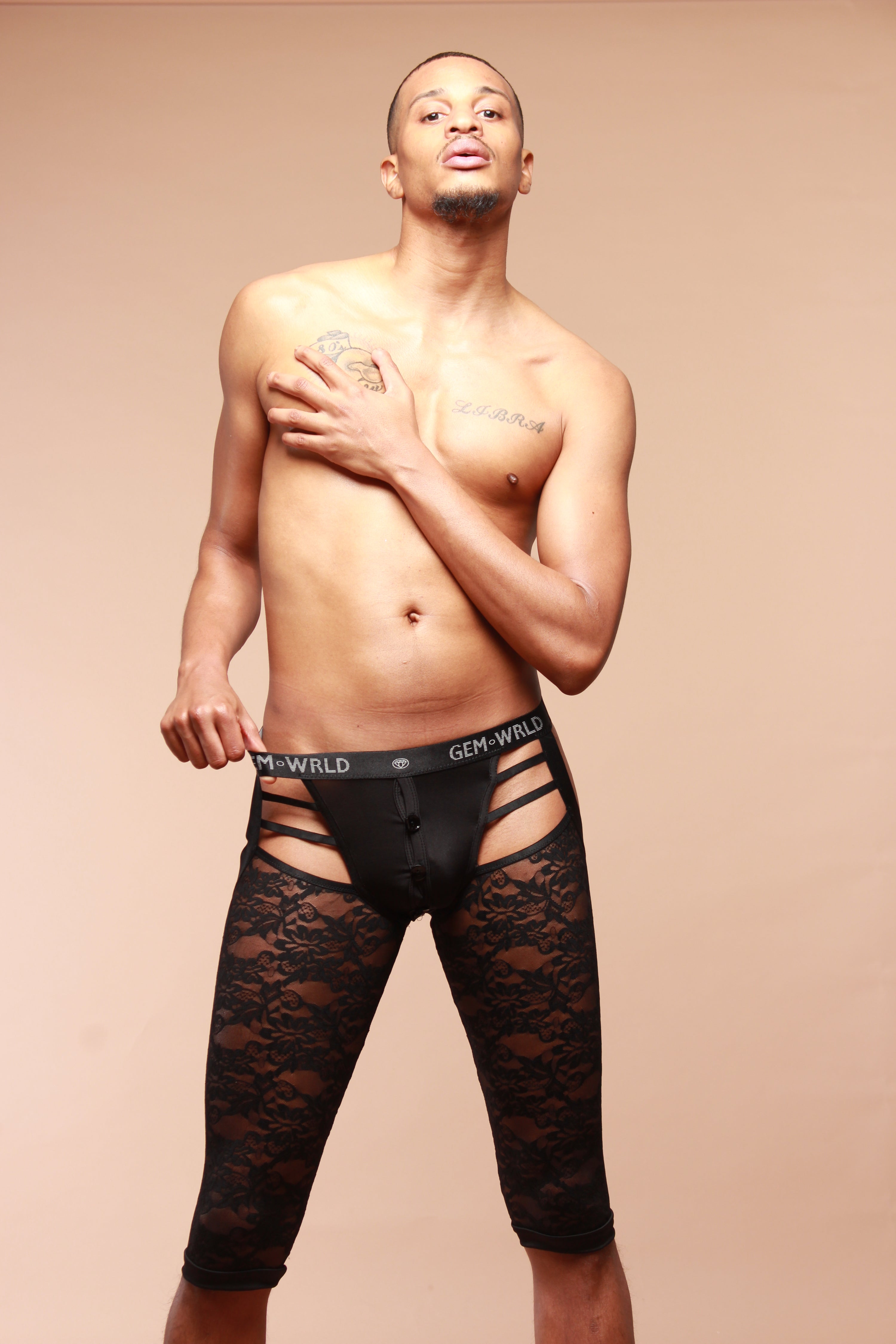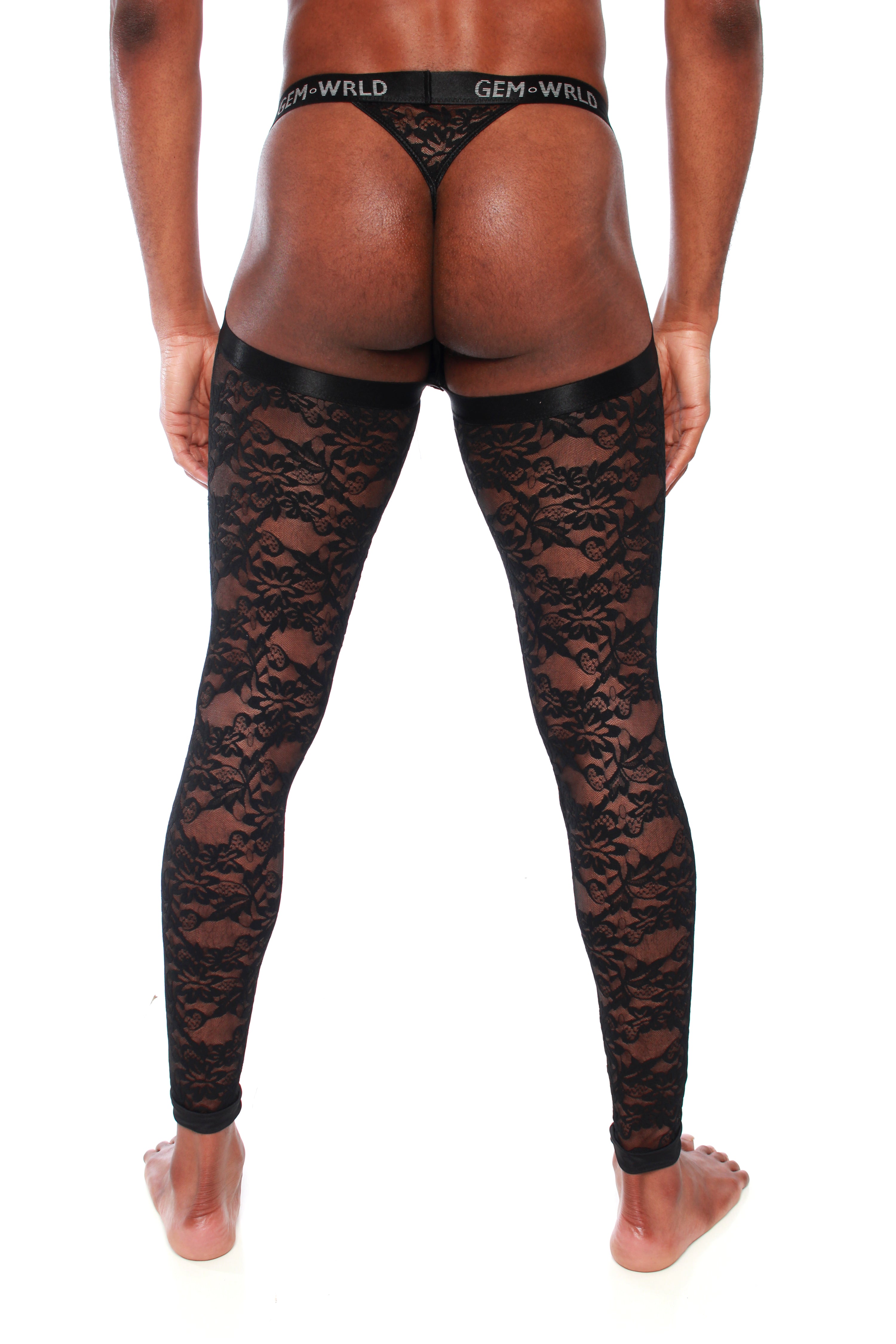 Caged Front with Lace Thong
The Ultimate Tease. Our Caged Front, Lace Thong Gem-Tight features a daring caged design of straps, lace legging, and matching thong. From our LUV~LACE collection, these flirty Gem-Tights will unleash your inhibitions providing a sexy form-fitting silhouette with long-lasting comfort.
* For "bigger" or more muscular thighs, increase in size choice is recommended. As the fit might be too tight (please reference size chart)
Button-Fly contour pouch. For your convenience.
Black floral lace fabric
"Caged" elastic straps
Combed elastic framing
Polyester Contour Pouch

Breathable Flexible Fabrics - Nylon, Polyester, Elastane
Hand wash cold, do not wring, do not tumble dry, line dry
 *Ankle-Length Model: 6'2",163lbs, 32in. waist  - wearing size sm/md
*Knee-Length Model: 6'1",161lbs, 29in. waist 

 

- wearing size sm/md
#GEMWRLDAPPAREL
Caged Front with Lace Thong
Incredible product. Need's a larger size.
These lace leggings/tights are spectacular. I would wear them every day if they would go a size larger. Ideally, make the L/XL into the L and add two inches to length and leg circumference for a new XL size. The fabric is extremely delicate (which is fine) and I knew I had to be careful putting these on. But getting them over my heel made them tear no matter how careful I was. The tears sew up easily and aren't noticeable, but a larger size would be idea.
I absolutely LOVE the look and feel of these. Like I said, I would wear these every day for the rest of my life and buy dozens of them in all the styles. Adding white would be great too... But they just need to be a bit larger.
FYI... I am 6'1" tall, muscular, although my legs are not overly thick. A standard XL should fit me just fine, but these just don't quite make it and the lace doesn't stretch much. I highly recommend buying these and enjoying them. Just be extremely careful while pulling them up and expect an occasional tear. They run a bit small.
It was okay…
The fitting was not ideal. If you have bigger thighs it won't fit. It needs a bigger size…I'm not a plus size person but im a runner. I wouldn't buy again.
Hi Jose,
Apologies that your experience with our products didn't meet your full expectations this time. As a new small business, we are working to correct any issues to provide a better product for all customers.
Thank you
Caged Front with Lace Thong
Loved it!
loved the way it fit my body, tight but not restricting!
Fits Great and great quality
Very Hot !